Demolition Derby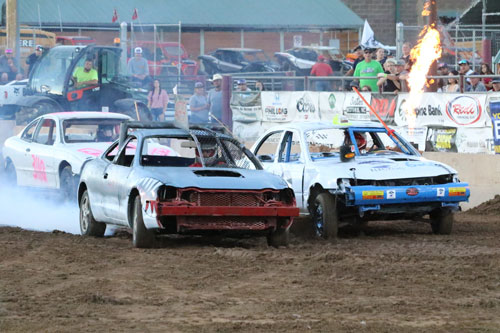 Garfield County Fair & Rodeo
Saturday July 29, 2023, 7 PM
Buy tickets
Garfield County Fairgrounds
1001 Railroad Avenue, Rifle, CO
Outdoor Arena
It's time to get smashed, bashed and crashed at the Garfield County Fair and Rodeo. This year's demolition derby spins crowd excitement into steam and flames at the Garfield County Fairgrounds, on Saturday, July 29, at 7 p.m. The goal is simple: the last operating vehicle wins. Vehicles are equipped with seat belts, rollover bars and cages inside to protect the drivers. When a vehicle can no longer move, its flag goes up and it's all over until the winning driver extricates out to celebrate on top of the vehicle. Watch as daredevil drivers crash and smash their way to glory under the lights!
Come on out and cheer on these brave drivers as they and their vehicles give it their all. This popular and thrilling event always sells out, so be sure to pick up your tickets early.
Contact Travis Tiffany at motoworx79@gmail.com for more information or call (970) 618-9406.